Citroen C3 is one of the Most Affordable Micro Suv with better Engine option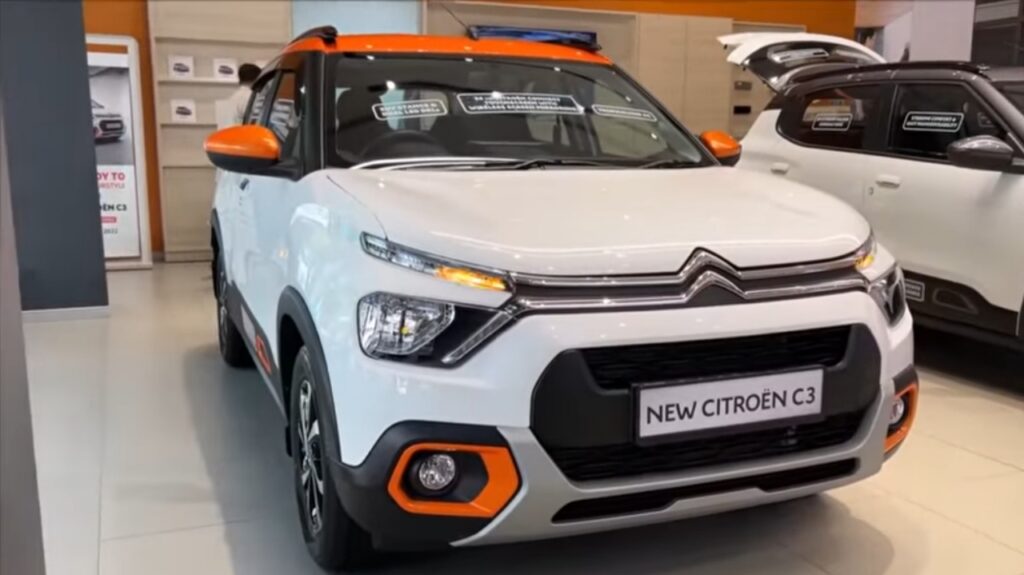 Citroen C3 is one of the most affordable Micro Suv available in the Indian market which is giving direct competition to its rivals which are Tata Punch, Maruti Spresso and Maruti Ignis. The C3 is one of the best micro Suv which comes with a huge amount of Legroom and headroom space, one touch roll down power window at front in every model, comfortable seats, awesome riding quality and more. 
Citroen has launched its C3 micro Suv in 2 different engines which are 1.2 l Non Turbo petrol and 1.2 L Turbo petrol. The Citroen C3 base non turbo model price starts from 5.71 Lakhs ex-showroom and goes upto 6.93 Lakhs for Non Turbo Top model. The C3 Turbo engine is available in the top end model price at 8.06 Lakh ex-showroom in New Delhi. The Ground Clearance of C3 is 180 mm which may help you when you drive it on off road with full load and increase your confidence over the vehicle. That it can go through almost any kind of off-road terrain without any issue.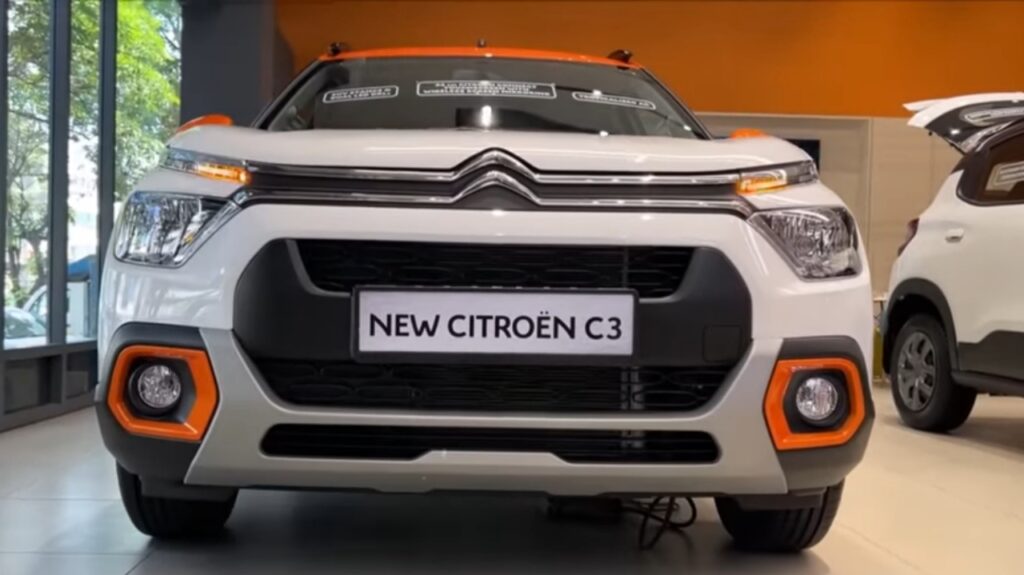 We can say that C3 is based on the cost saving design language like manually adjusted and retractable Outside rear view mirrors, no washer and wiper on Boot door, Conventional light Bulbs in front and rear Tail lights, no auto rain sensing wiper and headlights. But the above features are also going to save a lot of money for the owner too. Because the repairing or replacement of components is going to be a lot cheaper and cost effective. There is no compromise in build quality of the vehicle which is quite attractive and Good for safety reasons.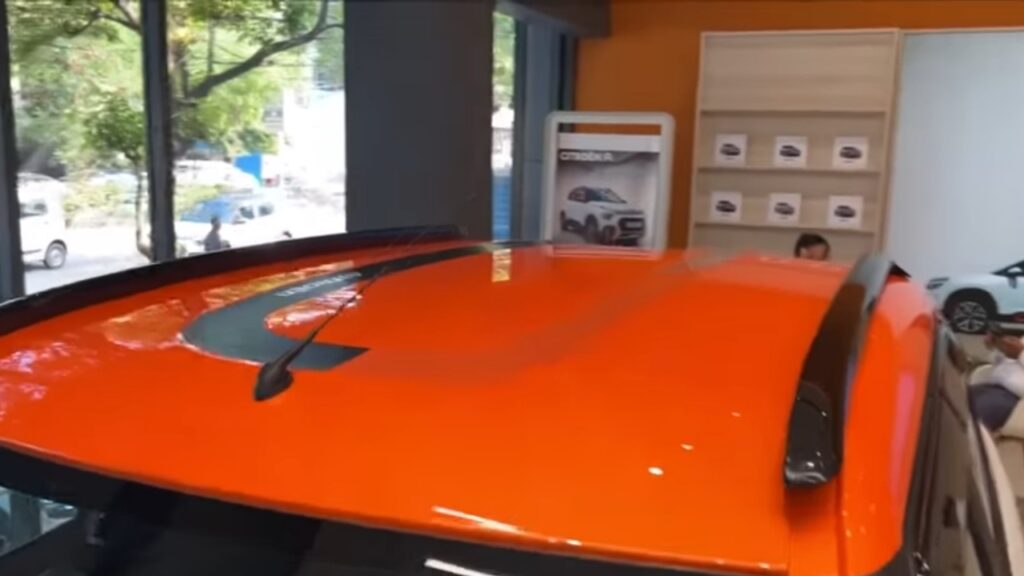 The front of C3 Looks quite attractive and unique due to Citroen Logo on the nose grill , Dual DRL's at front of Suv which makes it very much attractive from long distance and does give a feel of a new era vehicle. From the side you will notice Alloy like wheel cover fitted on Steel Rim with Tire Size of 195 65 R15 which improves the vehicle grip, stability on road and decreases stopping distance when it comes to braking. The wheelbase of the C3 is much larger than that of its rival which is 2540 mm and helps in increasing the cabin space.
On the Roof of vehicle you can easily notice Dual top Color finish, Roof Rails and antenna.
On the Rear design is very decent and everything is as simple as possible like 2 parking sensors and conventional bulbs in Tail lights. The Boot space is 315 Liter and come fitted with boot lamp, also and the Fuel Tank Capacity is 30 Liters only.
The Citroen C3 is power by two different engines which are 1.2L 3 cylinder petrol and 1.2L turbocharged petrol. The 1.2 liter non Turbo 3 cylinder Petrol engine produces 80 Bhp of power and 115 Nm of Torque. The 1.2L engine is recognize as Puretech 82 and available with 5 speed gearbox which gives a maximum mileage of 19 kmpl. Another 1.2 Liter 3 Cylinder Turbo petrol engine Produces 109 Bhp of Power and 190 Nm of Torque. This turbo engine is name as PureTech 110 and available in only 6 speed manual gearbox offering mileage of around 19 Kmpl.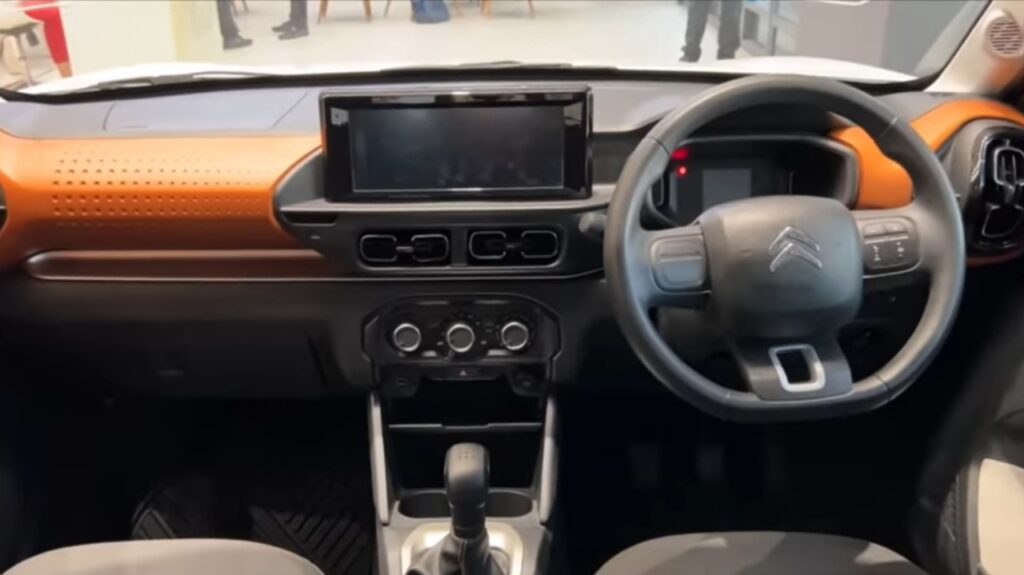 Inside the cabin you will notice like Wireless Charging option ,8 Way Adjustable Driver Side Seat, electric power Steering wheel with mounted infotainment system controls, All Head Rest on the seats are fix, fast charging port available in the second row and 10.2 inch Touch screen infotainment system which supports( Apple Carplay, Android Auto, Bluetooth, Usb and radio). The 4 speakers produce quite good sound quality effects and bass. The Air conditioning system is also manually controlled and the option of Auto Climate control is not available. All 4 doors come with bottle holder space.
The Digital MID Display show All kind of important information like vehicle speed, Fuel Level, Coolant temperature, Trip A & B, ODO meter,  Distance to empty , Average Speed, Average Fuel consumption, time and more.
The safety features in Citroen C3 are 2 Airbags, ABS, EBD, parking sensors standard in each variant.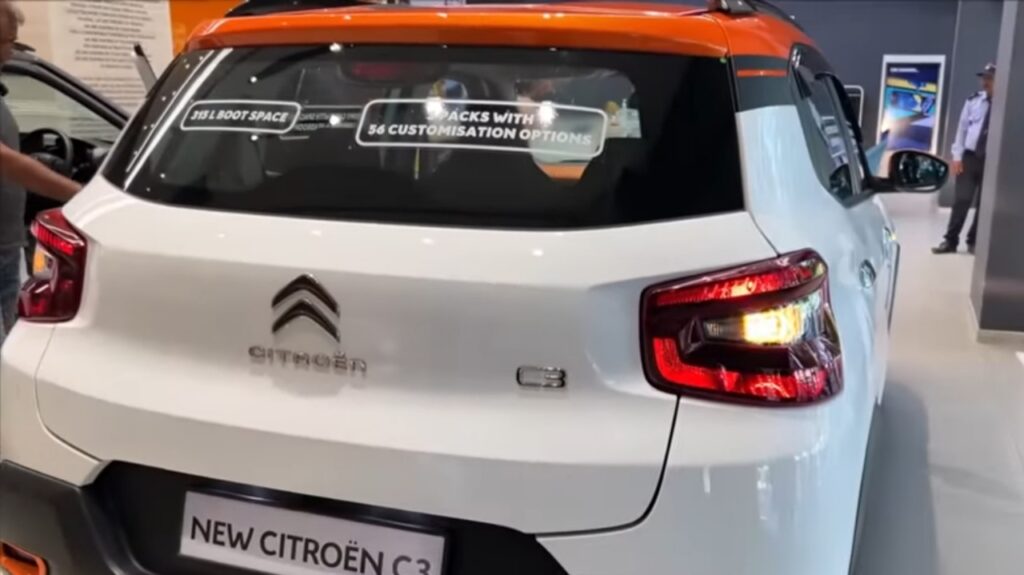 Citroen C3 comes with a warranty of 2 years and 40,000 kilometers as standard.